If you're reading this on a mobile or third-world internet connection, give up now. This is a long and very picture-heavy article.
Team Ireland went to the ETC and played some Flames of War. Sit, children, while I tell you how it went.
The venue was the Polish town of Gorzow. Lovely place but also home to the world's most accidentally scatological statue. With a round of shots costing roughly five euro, we took an immediate liking to the place.
The locals are experienced organisers but this was their first year running Flames of War alongside the ETC. They felt had something to prove and just really outdid themselves. Let's start with the terrain as the tables were nothing short of amazing. Here's a small sample to show the breadth of winter, desert, urban, rural, eastern and western front tables.
The terrain maker also had an admirable sense of humour and eye for detail.
Aside from the actual terrain, it was all those little touches that warmed my blackened, stone heart and made me think very nice thoughts about the ETC Gorzow team.
On our arrival, we were issued with goodie bags. Aside from the rules pack, brochures and other paper items, we received our custom bidding cards, objectives and commemorative mugs. Cue vicious squabbling about who gets the mug with the best image.
The stall at the entrance were specialist wargaming traders rather than just generic game retailers. This was very clever. ETC wargamers are tournament veterans, they already own everything they need and are not likely to buy basic units. They will, however, go ape at the sight of piles of Microarts terrain, Titan Forge and Puppetswar products being sold cheaply.
The standard of painting was (aside from Team Ireland) of the highest standard. I didn't run into a single army that had been painted to tournament standard only. They were all little works of art, lavished with fancy bases.
This is the English Panther list. Click it for a larger version, gaze on it and despair.
This is one part of the Soviet Cossack list. Find the soldiers playing a drinking game if you think your eyes can take the strain.
They also went all out on the optional extras. My Russian opponent had his own special objective marker for his Ersatz Engineers. He was not alone.
On to the preparation, training and tactics bit now. We arrived on Friday, dumped our bags in the hotel, visited the other Team Irelands and then swept and cleared the immediate area of all suspect alcohol. By five the next morning, we felt our work was done.
As you can guess, team morale was sky-high going into Day 1. Our glorious captain led us bright-eyed and bushy-tailed into the first round. We eagerly ran through our warm-up sessions, bounding with energy.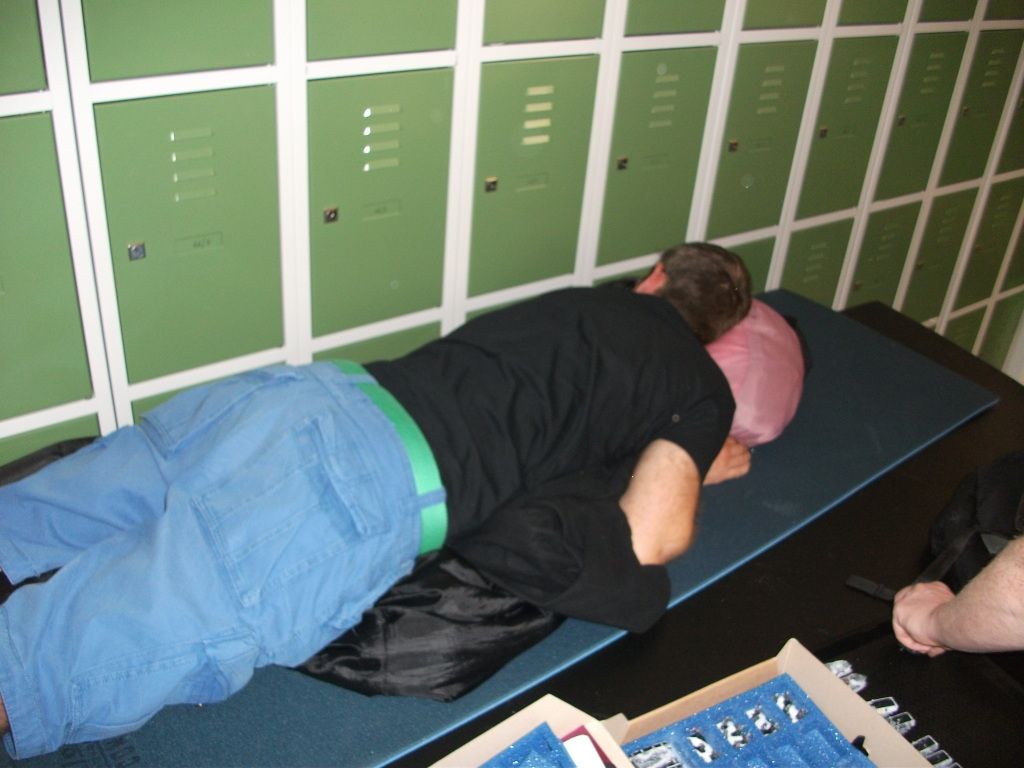 Day 1, five minutes before round start.
The judges match us against the Swedes. The three ETC veterans on the team start shifting uncomfortably and muttering about "they're always really good", " remember 2011?" and "I'm scared".
They turn out to be more casual than their dreaded 40K country-mates.
The mission requires the attacker to break through enemy lines, established diagonally across the board and grab an objective deep in the far quarter. Stalling my attack into the left and centre, Per lures me into a push against the unguarded artillery position on the right. Its all going well until his panzers appear on the my flank. The resulting ambush destroys most of my tanks, leaving the command units exposed and doomed.
My opponent was wily and cunning but he didn't realise that the dice gods prefer their players drunk and stupid. As the fight goes on, his gunners suffer temporary blindness and my commanders suddenly lose their ability to miss. The flank collapses and I break through to the objectives.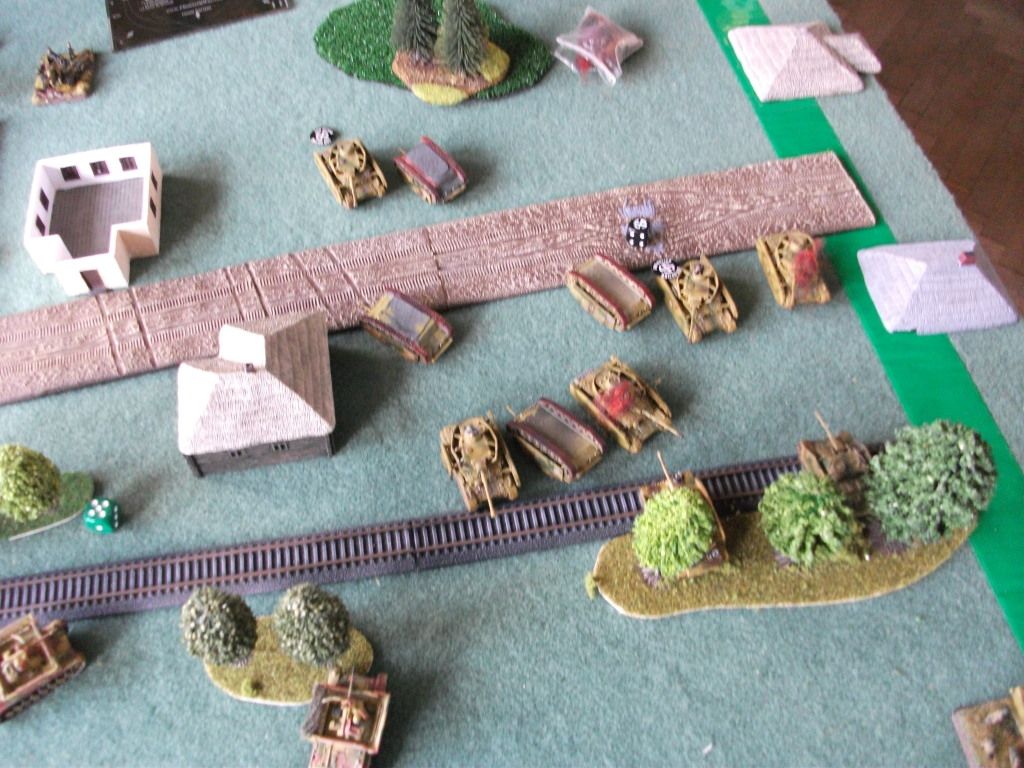 Command StuGs stall the enemy attack just short of the artillery.
A quick scan shows that things have gone well. Three wins, two losses and a draw gets us the round win.
Eleventh of twenty teams, solid stuff. We exchange relieved looks and go eat bratwurst. We come back to find that our next opponents are the Russians. Instinctively, we feel that this might be a tough match. They're considered good at the whole WW2 thing.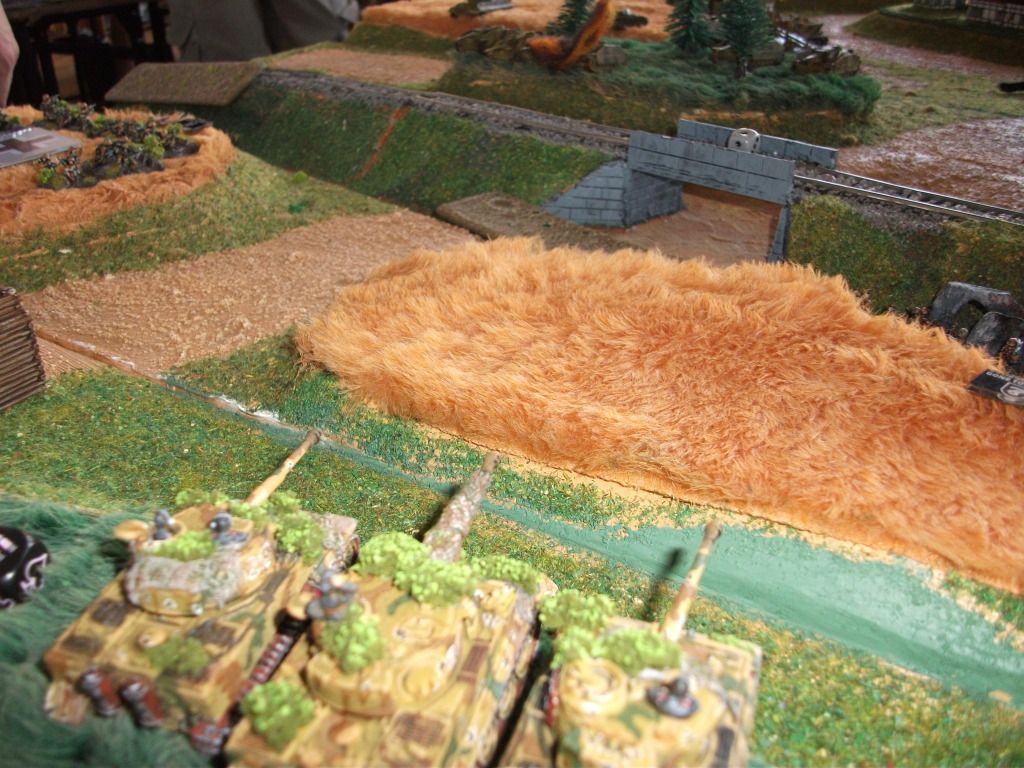 Tigers wait to pounce.
Kill it. Kill it quickly.
Once again, my blind aggression combines with unbelievable luck as I blunder through Dennis's careful and measured ambushes, minefields and defensive fire. An ill conceived first attack fails miserably, killing my unlucky unit of StuGs but I have enough to throw in a second assault and hold the objective against all counter-attacks. Looking to the rest of the team, it appears we've done it again.
Despite again scoring less points than the opposition in our games, we have managed to record three wins, two loses and a draw. A second round win! We run to the board to see how high we've placed.
Huh? We scurry to our rules packs and realise that round victories are actually meaningless.Your score is the total of all battle won across all rounds. Worryingly as our wins were small and our losses glorious but large, we're also falling behind the other teams on the secondary tie-breaker.
Over bratwurst, we discuss the standings. Even if we have only advanced one spot, we feel pretty good about our chances. Things are going well, we just beat the Russians. Hell, we could still win this thing. We've drawn the Slovenians and honestly, how good could they be?
I get a little nervous as he sets up a strong defensive line running the width of the board. Despite dozens of turns attempting to pick apart his position, he's just too good for me. Every time I try a clever gambit, it turns out that he's already noticed the threat and taken steps to baulk me about two turns earlier. The game ends with my first defeat. Still, the others will probably make up for it.
Or not. Poor Tony. As a Sherman player, he instinctively hates and fears the Tiger tank. Demonstrating its inherent kindness, the universe keeps raining Tigers on his battered little tank company.
That's the end of Day 1, three games played. The last one was rough but we should still be somewhere mid-table…
Second last?! A quick team meeting ascertains that our performance took a dip as we sobered up. I swear not to allow that to happen again. Kebabs, drinking, second dinner, drinking, brief visit to a bizarre Polish squat/house rave, more drinking and an hour of sleep happen, in that order.
The next morning is quite painful but I stagger into battle. I have this strange feeling of being intensely warm. I wonder if I'm running a massive fever or if it's some new, rare form of hangover.
My challenger steps up and offsets my discomfort by breaking into a nervous sweat once he sees my army/deployment.
It's only after the match, that I realise that the air temperature is actually in the high thirties, I don't have a fever and his sweating is totally unrelated to my tactical genius. Damn.
My opponent has a simple plan, sit in his trenches, hit me with anti-tank guns and tank hunters while fighter-bombers scream over me. He enacts it well and I bumble around ineffectively, getting blown up, until an unforced error leaves his right flank vulnerable. Some screams and grinding of tracks later, my armour starts to roll up his line.
But he's done enough to stop me and the game ends on turn 8 with a deserved win for Memanja.
Overall, provided the Slovenians have murdered some other team, we should be a little safer. Our captain, Baz, and Ulick begin to preen themselves and give long speeches about their inherent superiority and desire to win. The rest of us eat some bratwurst.
Last?!
We quickly revise our objective from "win the ETC" to "don't finish last". Game faces are put on. People start actually reading their rule-books. The judges pair us with the Hungarians.
We face off across a crowded battlefield. I gently probe into the factory sector. He lures me in and chops up a unit of StuGs. I realise that I'm totally outclassed and start defending. Nothing else much happens as his infantry show no real urge to start standing in the open under my guns. A draw, with my opponent grabbing an extra point.
Having done nothing to get us off the bottom of the table, I go check on the others. Three draws. A loss. A win. And…. Brian gets us a last-ditch win.
After some bratwurst, we conscripted a passing Spaniard as the official team photographer and make him take our official team shot. And then it was time to check the final standings.
We rejoice, not last, not even second last. Third last. That's practically mid-table. Sorta. Nearly. We wipe our collective brows and enjoy the awards ceremony.