Itzacon 8: Best in Show
I've been told that pictures of scantily clad women artifically boosts your hit count. In the name of Science!, let's see what a picture of an Itzacon "princess" does. For the sake of completeness, I'll have to splice some tasteful hardcore shots into the next tournament review.
Another week, another con. Only two tournaments left until the ETC season ends. As befitting someone who posts a lot on 40K, I'll actually be playing Infinity over the final weekend. You can sign up for that (and most likely, beat me) here. We're going to mix up the format slightly, the percentage of army points pie chart is dead, long live the top score per codex chart.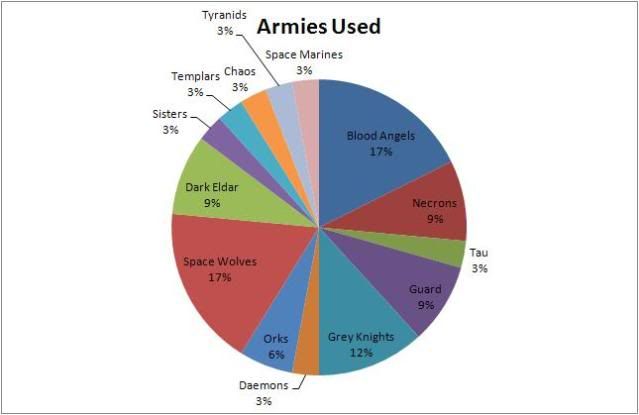 Another decent mix of codexes with Blood Angels being rather prominent. I suspect this is as a result of its domination of the Highlander format. Fourteen of the sixteen codexes make an appearance, Dark Angels and Eldar are the missing pieces. The percentage of loyalist chapters is running at 52% of all armies. Power armoured armies running at a relatively low 58% of the total. Overall, the seven stronger codexes (Wolves, Knights, Guard, Deldar, Necrons, Orks, Blangels) have about 80% of the player base. The rest are represented by token players.
The average scores see Tau (amazing) coming out ahead. Daemons also do well. In this case, solid performances by single players. When we look at the armies used en masse, the Space Wolves do best on average. The Grey Knights and Blood Angels are popular but very patchy. Guard are also all over the scale.
As night follows day, Space Marines crawl into last place. Someone, please, bring them back to the glory days of Vulkan. We see that Blood Angels, Necrons and Guard have had their averages dragged down but, in the right hands, can do very well.Space Wolves despite solid average scores, don't really break into the upper echelons of the tournament. The Daemons player does well, his comrades sporting Chaos, Nids and Space Marines less so.
The Tau result may be some manner of quirk but it's important to recognise stellar achievements in toy soldiery. Thus we award The War Altar's InAugural Unfeasibly Large Trophy With Excessively Long But Somewhat Fitting Title For Services To Underrated Codexes to… the con's solitary Tau player… one Nudie McTubs.