Preening Dandies (May 2013 Edition)
Following on from this contributor's first Preening Dandies/War Altar blog post last month, we've seen a dramatic decrease in the number of entries for May. That makes this banana sad. Anyway, let's get cracking with the entries………
Grenadier Machine Gun Platoon (Flames of War)
First up this month is Floody, our resident barbed wire expert – used for keeping the peasants off his land and the pheasants on his land. There appears to be a bit of a high-sheen gloss on these MG42 gunners, but the barbed wire is a nice touch. Floody, the man with the "nice touch".
Space Marine Strike Cruiser Squadron with Thunderhawks Squadrons
(Battlefleet Gothic)
Void Dragon presents more of his BFG work to us, this time Grey Knights. As usual, an awful lot of detailing has gone into these – I really like the blue wash gone onto these – good work! For more of Void Dragon's work, check out his painting log, here.
Pioneer Platoon (Flames of War)
My (Frogdog) entry this month is something that I managed to paint during my 6:30am starts, and actually something I'm quite pleased with. I actually put a bit of time into ensuring the infantry are that bit neater, and carefully applied the wash at the end and it made a huge difference. Progress and improvement – I love it!
AWS 8Q Awesome (Battletech)

Lowry sends us in some non-Warmachine stuff for a change – a robot-type thingy with armour that resembles Thing from the Fantastic Four. I can only imagine that painting the plates of armour, making sure not to go into the recesses, must have been painstaking work. Well done that man!
Wirbelwinds (Flames of War)
Continuing on with the "better late than never" theme, Nosediver shows us what can be done with an airbrush and decals. As always, he pays close attention to the details which you can just make out on the hulls of these Anti-Aircraft/Infantry vehicles. Excellent, as always!
Romano-British Division (Hail Caesar)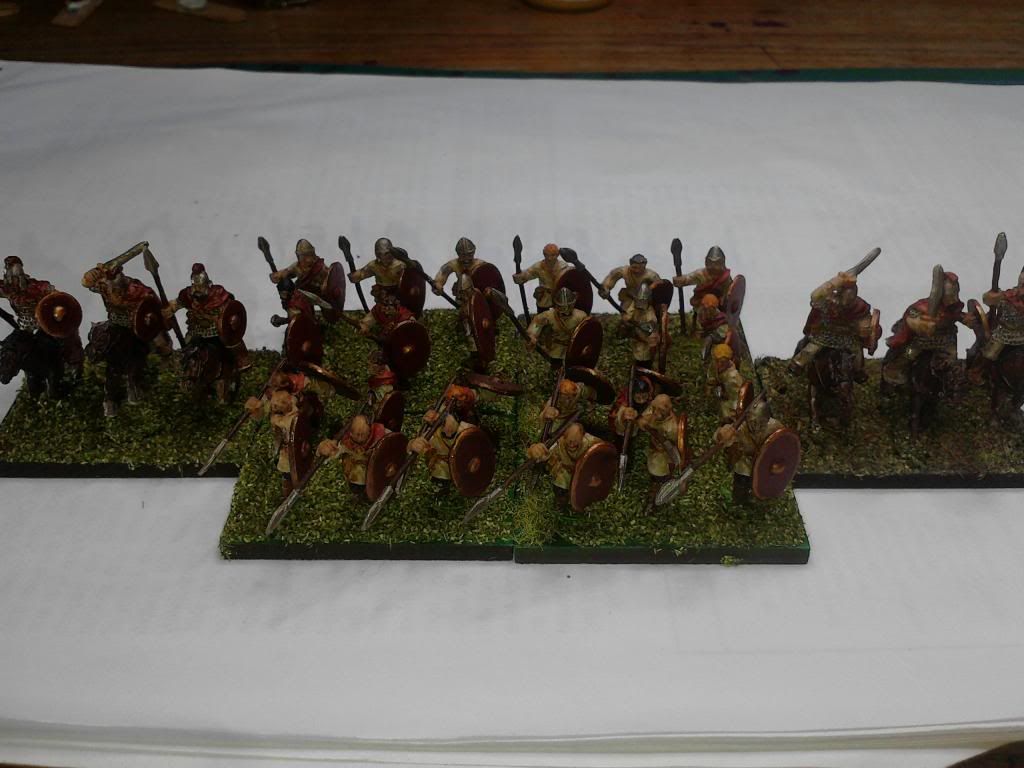 And finally, to Newbreed's entry- a large regiment of medium infantry with heavy cavalry support. Four of the units are newly painted, one cavalry and infantry stand were done previously, according to him. Is that allowed as an entry into Preening Dandies? I'll let you, the reader, decide.
That's it for another edition of Preening Dandies where we see a total of six entries from four different game systems. Scoreboard updated below:
Preening Dandies

| Player | Score |
| --- | --- |
| Lowry | 14 |
| Newbreed | 13 |
| Nosediver | 8 |
| Quozl | 7 |
| Craftfeld | 6 |
| Frogdog | 6 |
| Trget | 5 |
| Welshman | 5 |
| Sycopat | 4 |
| Floody | 3 |
| Bristolscale7 | 2 |
| Alcorps | 2 |
| The Big BZ | 2 |
| Void Dragon | 2 |
| HerrIreland | 1 |
| Jiggy | 1 |
| Maynard | 1 |
| Crazy Aido | 1 |
We'll be doing another roundup in July so get your works into prd@onthestep.net before the end of June. As ever, our local tech adept states that photos above 5MB in size tend to bounce back so keep your entries below that size.
Rules Refresher
1) Each participant may only send in one entry for a given month. You can send in multiple photos of the entry but only one will be used.
2) The entry can be a single model or single unit. The smaller the unit, the more detail in the photo so aim low.
3) The model can be from any game system. If it's particularly esoteric, we'd appreciate a covering note explaining what it is.
4) The entry must have been finished within that given month. You can't submit completed pieces from your back catalogue.
5) If you want us to include a link back to more of your work, we'd be delighted to do that.