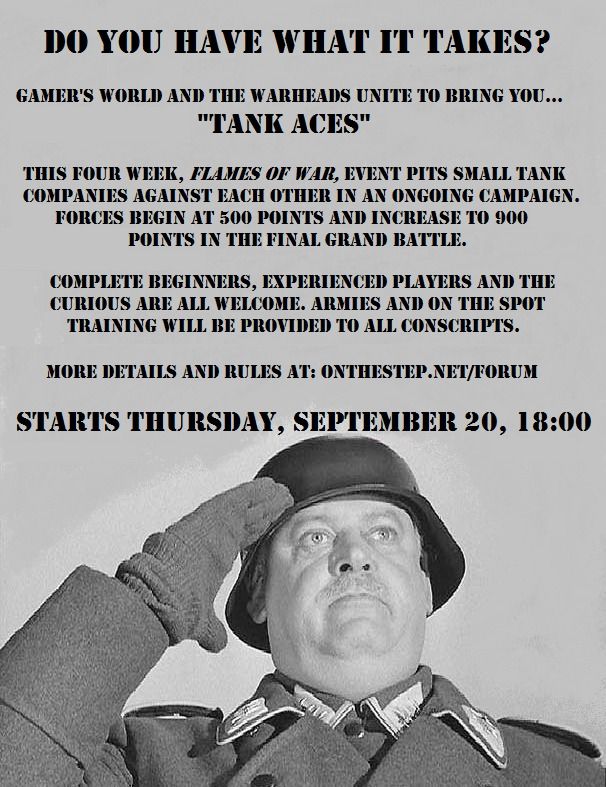 1) How does it work?
The Flames of War game designers explain it rather well here.
For the link-averse, it's an ongoing campaign. Each player commands a small tank force and pits it against the opposition in a series of campaign missions. Each player force has a single Tank Ace, which could be considered their avatar on the field. The Tank Ace will develop new skills over the course of the campaign, some benefit his own tank, others benefit his tank company.
There are three rounds of games leading up to the final battle. Hence, a four week campaign. During each round/night, the players fight battles for campaign points which decide the outcome of the campaign stage.
2) What do I need to bring?
If you're interested but have no appropriate force, just bring yourself. Due the small size of the forces, we've got about a dozen pre-made forces to spare within the club.
If you already play Flames of War, then you can make a force using the following restrictions. All forces must be taken from a Late-War Tank Company list. No mechanised or infantry lists permitted. You can adjust the composition of the force from round to round but you cannot change the list. If you go with the Irish Guards, you must use them throughout the campaign.
Round 1 requires a 500 point force. You may only chose from the Company HQ, Combat and Weapons Platoons of any Late-War Tank Company. You may buy whatever you wish but remember, only the Tank teams will be used in your games.
Round 2 requires a 700 point force. The restrictions are the same as before but you may choose from Company HQ, Combat, Weapons and Support Platoons.
Round 3 requires a 900 point force. The limitations are the same as before but you may choose from Company HQ, Combat, Weapons and Support Platoons.
Round 4 is the final grand battle. Every player participates in one giant mission. Depending on player count, this will be 500, 700 or 900 points per player.

3)I'm a Soviet player. Can I play?
Yes, you're very welcome, comrade. We'll treat you as an incredibly lost and/or incredibly successful Soviet commander and assign you to the Allies.
4) When does it start?
We'll kick off in Gamer's World on September 20th at 18:00. See you there.
There's a campaign mega-thread set up here on the OnTheStep forum. If you have any questions, would like to express an interest or are merely curious, pop in.