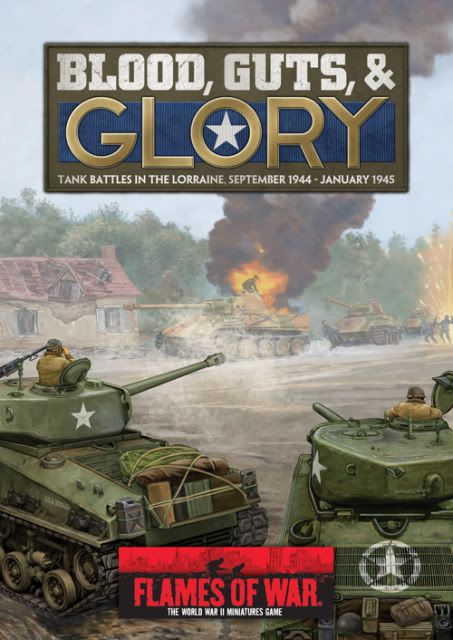 The latest FoW release focuses on the US-German tank battles in the Lorraine from September 1944 to January 1945. Following the Allied breakout from Normandy, the German position in France has completely collapsed. Little stands between the lead American echelons and Germany. Only their crippling supply difficulties slows the Allies. Patton, starved of resources, begs, borrows and steals fuel to keep his attack pressing on. In a bid to stall Patton's Third Army's drive on the Rhine, newly formed German Panzer Brigades are thrown into a hasty counterattack. The result was the largest series of tank battles on the Western Front.
In game terms, the setting provides us with a moderate reversal of the traditional US-German clash. We have inexperienced German troops with a surplus of the most modern tanks and equipment trying to overwhelm units of hardened American veterans. The Germans formations are operating with the bare minimum of support, lacking in reconnaissance and artillery but well-supplied with AA assets. The Americans have the full array of divisional support. If you have a fondness for armoured lists, read on.
US Section
The Americans have two special characters available, Lt General Patton and Lt Colonel Abrams. Patton provides a bewildering list of army-wide buffs while Abrams boosts your armoured assets. On a historical note, the modern day Abrams tank is named after the latter.
The advantage to these smaller sourcebooks is that the lists have a certain character which can be missed in more generic army lists. The Americans can go with the veterans of the 4th Armoured or the less-capable 7th Armoured Division. You can choose Armoured Rifle Companies or Tank Companies from either division. There is also a Tank Destroyer Company representing the 644th Tank Destroyer Battalion or the 704th Tank Destroyer Battalion. These are the classic punch hard and leg it units. Frankly, it's the most broken list in the book and the internet is brimming with love for it.
Pimping your Sherman tank.
For me, the main draw is that a vast range of late war Sherman designs are available within these lists. Aside from the basic M4 (read: rubbish) model, we can bring the up-gunned (76mm) version, the heavily armoured "Jumbo" and the speedy but stable "Easy Eight". These, respectively, give us the standard Sherman horde, guns which can take out anything short of a King Tiger, tanks with armour superior to the Panther and the ability to move and fire without penalty. The customisation options within a single tank platoon are generous and you can tailor it to be a jack of all trades, sniping unit or a heavy assault force.
To give an idea of the points costs, here's a 1725 point tank company from the 4th Armoured Division.
Company HQ
2x M4A1 Shermans
Tank Platoon
2x M4A1 Shermans
2x M4A1 (76mm)
1x M4A3E2 Jumbo
Tank Platoon
2x M4A1 Shermans
2x M4A1 (76mm)
1x M4A3E2 Jumbo
Assault Gun Platoon
6x M4 (105mm)
To put it in terms that will resonate with the MMORPG-addled youth of today, that's 6 painfully average tanks, 4 snipers and 2 shield tanks. Along with six tanks that specialise in pounding infantry and guns into field-grey goo. They can also fire bombardments.
German Lists
The German may not have any special characters but the book lets you combine the best German equipment with the low points cost of a Reluctant Trained rating. In previous army books, sub-standard German troops were generally reserve or police formations caught in the wrong place. This meant that the lists lacked access to the good toys that make the Germans feasible in competitive play. No more.
When we say that we get all the good toys, we actually mean three good toys. Cheap Panthers, soldiers bristling with panzerfausts (each stand gets one as standard) and excellent AA platforms. Brace yourself for the shock of having points to spare after buying all your tanks. The sample list below fills all but two slots in its OOB. That's the Force Organisation Chart to the 40kers amongst us.
There are two groups of lists in the book. The first units deployed were fully equipped and are represented by a FHH Tank and two FHH Mechanised lists. For the later stages of the operation, we have slightly more ragged Tank and Infantry companies.
For illustration, a 1750 point force from the 113. Panzer Brigade.
Company HQ
2x Panther G
Tank Platoon
4x Panther G
Tank Platoon
4x Panther G
AA Gun Platoon
4x Mobelwagon
Motorised Platoon
3x Panzer Grenadier Squads
Motorised Platoon
3x Panzer Grenadier Squads
Ten Panthers for the price of six. They may break if tested but the armour and gun are the same no matter who the crew are. One the best AA options in any German list at a ludicrously low price. And enough points to bring two full infantry platoons. Crazy.
Tank Aces
About a third of the book is devoted to the Tank Aces campaign, which pits small platoons of armour against each other in vicious firefights. The campaign structure is based on the fighting around Arracourt and consists of three to four campaign turns. The points totals are small, starting at 500 points and increasing to a maximum of 900 points. Each player has a Tank Ace,which acts as their avatar during the campaign.
You begin with one average commander and less than a handful of tanks. Battles are fought, your forces expand and your commander gets that little bit tougher with each fight. There's an RPG element as your Tank Ace levels up over the course of a campaign. There are thirty-six upgrades to choose from, spread over nine tech trees.
As a self-contained series of missions leading to a grand finale, it seems very well suited to club play.
The inaugural Flames of War league in Gamer's World, Dublin was successful (apart from the damning fact that I'm not going to win it) and we'll be looking to build on its success by running a Tank Aces campaign over three weeks later in the year. So grab yourself a box of PSC tanks and watch this space for more.